Chancery Court
Polk County Clerk and Master
Kimberly Ingram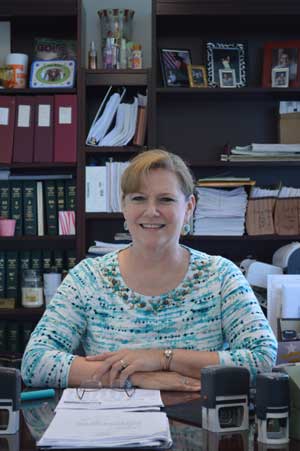 Physical Addresss:
161 Industrial Access Circle
Room 110
Benton, TN 37307
Mailing Addresss:
PO Box 689
Benton, TN 37307
Phone and Fax:
(423) 338-4522
Fax: (423) 338-4553
Office Hours:

Monday – Friday: 8:30am – 4:30pm
Chancery Court is a court of equity that hears such matters as contract disputes, real property matters, guardianships, conservatorships, workers compensation cases, divorces, and adoptions. The Polk County Chancery Court also handles probate matters.
The Clerk and Master is a quasi-judicial position established by the Constitution of the State of Tennessee. The office exercises all the duties and powers conferred upon clerks of court generally, and law or orders of the court strictly define the powers exercised. Although mostly clerical, the Clerk and Master may perform some judicial functions, such as hold hearings, report findings to the Court, and conduct judicial sales. The Clerk and Master is appointed to a six-year term.
Duties: The Clerk and Master's office maintains all files and financial records of the Chancery Court and the Chancery Court Probate Division. Duties include the filing of various pleadings, issuing summons and subpoenas, preparing dockets, collecting court costs and receiving and disbursing payments ordered by the Court. This office also processes, collects and/or sells property with delinquent taxes.